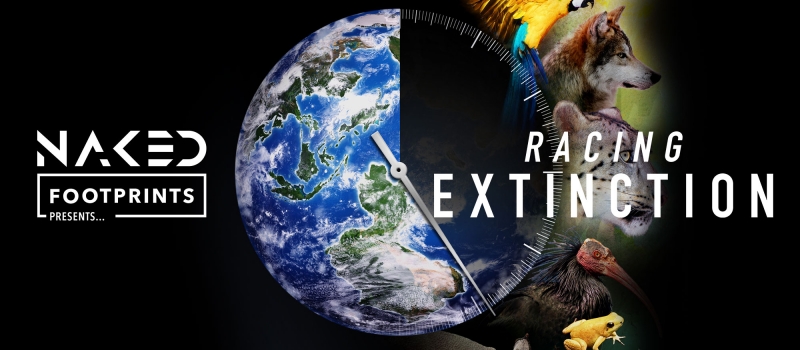 Next event:
POSTPONED UNTIL FURTHER NOTICE DUE TO THE CORONAVIRUS
Racing Extinction Screening
Falmouth Poly, 7.30pm, April 29th
What is Naked Footprints?
Naked Footprints is a non-commercial series of events set up to raise awareness of the critical state of our environment and explore the power we might not know we have – to change things for good.
Our first event saw a packed audience at Newquay Lighthouse Cinema watch an exclusive screening of Racing Extinction. Due to popular demand we will be showing it again at Falmouth Poly. Originally we planned to screen inn April, but due to the Coronavirus the event has been postponed until further notice. As soon as we can confirm a date, we'll let you know here. Watch this space!
Be Part of the Greatest Rescue Ever Attempted – Life on Earth
By 2100, scientists predict that half of all the species on Earth will become extinct. If we carry on the way we are now. This shocking statistic is the basis for Academy Award® Winning director Louie Psihoyos's latest documentary eco-thriller, Racing Extinction.
We are living through the Earth's 6th mass extinction
'If you can watch Racing Extinction without bawling at least once, then its director, Louie Psihoyos, suggests you consider that all the tenderly photographed endangered species that flood its frames are only signposts to the disappearance of our own.' ~ New York Times
The film exposes the hidden world of extinction with never-before-seen images that will change the way you see the planet. Two worlds drive extinction: the international wildlife trade creates bogus markets at the expense of creatures that have survived for millions of years; the other surrounds us, hiding in plain sight — a world that the oil and gas companies don't want the rest of us to see.
Racing Extinction shows how the spread of Homo sapiens, through global warming and poaching, has caused the greatest mass extinction since the dinosaurs were wiped out 66 million years ago. Using covert tactics and state-of-the-art technology, the Racing Extinction team exposes these two worlds in an inspiring affirmation to preserve life as we know it.
Watch the Racing Extinction Trailer here: