BUILD Magazine has announced winners of the 2019 Sustainable Building Awards

We are pleased to announce that Naked Solar were awarded the Best Solar PV Installer – South West England at the annual Sustainable Building Awards.
Established in 2010, Naked Solar was created to offer clients a new way to buy solar solutions, as Managing Director, Tony discusses in his initial comments.
"From the beginning, at Naked Solar we set out to give our customers honest, accurate information so that they can make an informed decision on the system they choose. When we started installing solar panels, the market had a bad reputation, with many companies being likened to the bad old days of dodgy double-glazing sales. We decided to offer customers access to the whole market, rather than representing one or two solar panel manufacturers and trying to push particular systems on clients.
"Today, thanks to our expertise in the market, we now undertake solar PV installations for domestic and commercial customers across the South West. Flexible and innovative, we are also able to offer battery storage installations and electric vehicle charging points. Using our specialist design software, we can help customers retrofitting panels to an existing property or work with architects at the conception stage in order to fit the customers energy needs in from the beginning."
Read the full article here: https://www.build-review.com/issues/sustainable-building-awards-2019/16/
United Kingdom, 2019– BUILD Magazine has announced winners of the 2019 Sustainable Building Awards.
An award programme created to show gratitude to the innovation of ground-breaking firms, enterprises and individuals, across the sector, who for years, have provided who have worked tirelessly to ensure the global community decreases its collective carbon footprint, the 2019 Sustainable Building Awards recognise the best of the best in this dynamic industry. Due in part to incredible advancements in technology, in addition to the sheer hard work, Sustainable Building has transformed into a billion-dollar industry which is making a difference in daily and future living.
Discussing the success of these deserving winners, Katherine Benton, Awards Coordinator praised their hard work and commitment to excellence: "As the industry moves forward in the face of adversity, the 2019 Sustainable Building Awards recognise the grit and determination of the workmen and women dedicating themselves to the design and construction these sustainable buildings. I am honoured to congratulate my winners and wish them the best of luck for the future."
To find out more about these prestigious awards, and the dedicated professionals selected for them, please visit https://www.build-review.com/ where you can view our winners supplement and full winners list.
ENDS
Notes to editors.
About BUILD
Published monthly, BUILD endeavours to bring you the latest need-to-know content and updates from across the global construction and property industries.
Keeping pace with a vast array of ever-changing sectors thanks to regular contributions from some of the world's foremost construction, design and real estate experts and firms, Build is home to the very best news, features and comment from the people and institutions in the know. Taking in everything from the latest products and techniques, to up-to-the-minute design trends and industry-moulding regulations, BUILD should be the first port of call for any construction or property professional looking to remain on the cutting edge when it comes to their or related industries.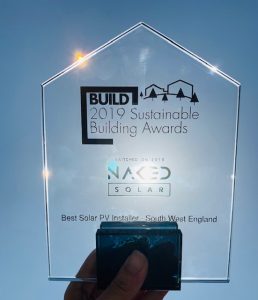 Want to look at Solar from award winning Naked Solar? Contact Us