LEADING THE CHARGE IN NEWQUAY
How do you provide a heated outdoor swimming pool and EV charging for guests in a Cornish coastal rental property without getting into hot water over your energy bills?
Naked Solar have just finished an install in Newquay for Mr Blackburn who had a very specific request. He's renting his house out to holidaymakers, and one of the major attractions of the property is his heated outdoor swimming pool, which guests understandably love to use as much as possible. Heating water outside, however, is notoriously expensive.

Mr Blackburn was keen not only to reduce his bills, but also his carbon footprint. He'd noticed that many of his guests were increasingly arriving in electric cars, so he asked us if it was possible to cover both aims with solar doing the brunt of the work.
After discussion about his priorities, his budget and a detailed survey of his house, using PV software we were able to offer him a range of options to choose from. Mr Blackburn went for maximum output and efficiency, reasoning that the higher price would be more than offset in the medium-term by a dramatic reduction in his electricity bills.

He had industry leading Sunpower Maxeon 390 watt panels installed on both his pitched roof and flat roof. Together, these can produce a maximum 6.6 kWp. For battery storage, Mr Blackburn opted for the best: the Tesla Powerwall battery with backup (which offers 13.5kWh storage, provides upto 5kW of power, and will still work if there's  a power cut). To ensure as much energy was used in the property as possible before excess goes back to the grid, we also installed an Eddi immersion diverter to heat his water. For the guests, two Zappi car chargers allow fast simple recharging for all EV makes, with as much power as possible being drawn from the solar array.
It's early days yet, and Mr Blackburn is already seeing day-to-day energy bills dropping considerably – even in winter. He's looking forward to next summer…And so are his guests.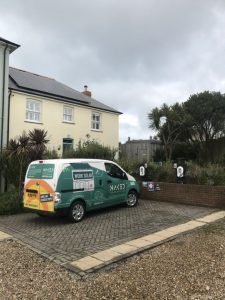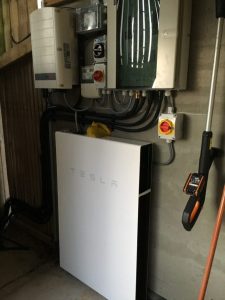 Want to power your home, car, business with solar? Contact Us