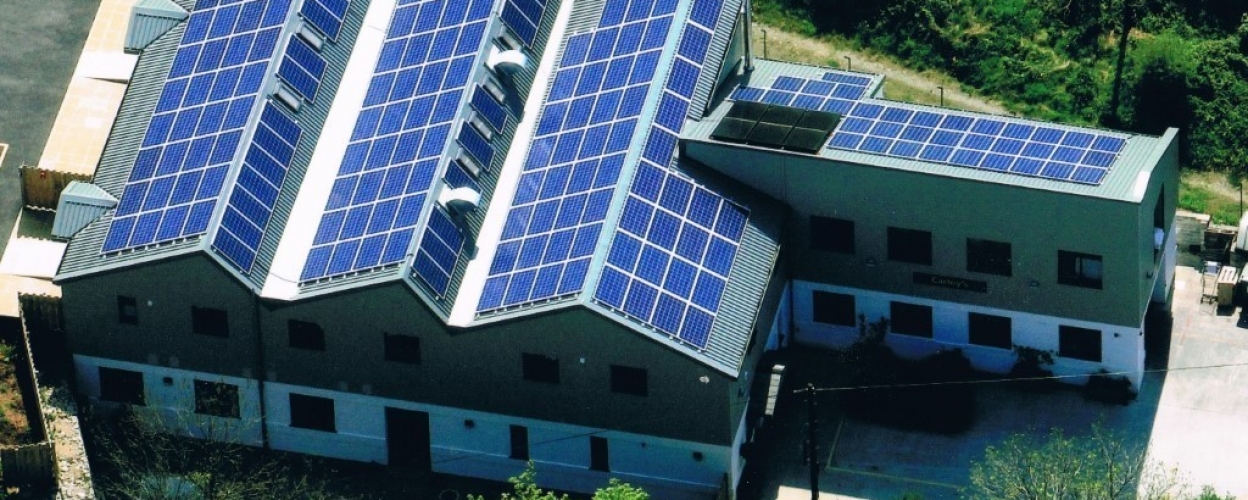 Carley's of Cornwall
Carley's of Cornwall is one of Europe's leading manufacturers of pure organic nut and seed butters, organic chocolate spreads and delicious chutneys, all make in their 100% dedicated organic eco-factory in the heart of Cornwall.
From the very first days trading many decades ago Carleys have been determined to make their business and products as environmentally sustainable as possible. 
 The whole building, from conception to completion has been designed and built with long term sustainability in mind. The team of architects, engineers, advisers and specialist builders and tradesmen who are experts in their fields worked closely together to make the beautiful building as efficient and environmentally sustainable as possible. 
Carleys worked carefully throughout the project to achieve an BREEAM "excellent" rating. To achieve this, among many things, they had specified thick levels of UK made hemp fibre and sheepswool insulation in the walls and roof space and triple glazed windows with "planitherm" glass. 
Wherever possible they minimise packaging, (particularly plastic), energy use and wastage. They re-use and recycle everything that they can.
All biodegradable material that is generated in production is composted, and the matured compost is in turn used to nourish wildflower beds which are expertly planted with a vast range of native bee, butterfly and moth friendly plants, a beautiful sight in the summer months.  
In 2015 30kW's Naked Solar installed 115 REC 260 watt panels on three Southeast aspects. With a separate 4kW install on the South roof to power an adjoining flat. Three Solis 10kW inverters were installed with a separate Solis 3.6kW inverter for the flat. This array was expected to generate 28777 kWh's of electricity with £2000 – £3500 of savings each year on the electricity bill alone.
Mr Carley decided to cover the remaining roofs with solar and we were able to add another 65x REC 260 panels with a SolarEdge inverter and optimisers. Siting panels on the Northwest roofs wouldn't have been our first choice, but as the customer was keen to cover all available space with solar, we ran the simulation through the PVSOL design software to show the customer how much energy they could generate.  Install number two was expected to generate 8215 kWh's of energy each year, with around £1200 of savings on the electricity bill each year plus Feed in tariff for generation and export of energy. At the same time, we upgraded the existing 115 REC 260 array to SolarEdge.
In 2018 the customer had some specially designed frames attached to the building to allow another 45 REC 270 panels to be installed, all optimised with SolarEdge. A SolarEdge SE9000 inverter was added to the existing system and export limited to zero.  This third array was expected to generate 9449 kWh's of electricity with around £1500 of savings each year on the electricity bill alone.
| | | | |
| --- | --- | --- | --- |
| Power generated every year | 44714 kWh | | |
| Return on investment | 16% | | |
| CO2e reduction | | | |
| Installation cost paid back in | 6.8 years | | |
| | | | |
'Naked Solar have been integral to our aim of getting as close to energy independence as possible, and achieving zero carbon impact day to day at our factory. They think like us: be part of the solution, not the problem. They explained options clearly and honestly, worked efficiently, and most importantly, did what they said they were going to do, when they said they were going to do it. The fact that we've come back to them three times in 4 years is a testament to the quality of their team.
Installation of major arrays of solar panels has been an essential part of our sustainability plan. In the summer we generate much more electricity than we can use. Even in the winter we still can get a significant amount of generation. We have a large bank of batteries that can store excess electricity for use at night. In 2018 we added more panels on the east and west elevation to give us more generation earlier in the morning and later in the afternoon.'
~ John Carley, MD Carley's Organic